Inside Secrets of Television Commercial Air Time Buying - World's First Industry Secrets Book
Global Media Productions



TV Commercial Air TIme Buying Inside Secrets

Advertise on TV for as little as $500
First TV Air Time Buying Book of it's Kind!

Save Thousands of Dollars on TV Commercial Air Time!

A


A MUST Have for Anyone wanting to Advertise on TV!
The Entrepreneur's Secret Weapon for TV Air Time Buying Guide Book
How much does it Cost to Advertise on TV?



That's almost always the first question I get asked. This is the first book of it's kind that tells you everything you need to know. You'll get Step by Step Inside Secrets on How to Schedule, Produce and Buy Your Own Television Air Time and Save Big Money, Get the 15% Agency Discount and Get Better Time Slots!

This Book is Specifically Written and Targeted to Small to Medium Sized Businesses or Individuals who want to Advertise, or currently are Advertising on Television with Budgets Ranging from $500 a month to $35,000 a month or more.
Now for the first time you can have your own TV Air Time Guide that shows you exactly how to buy Television Commercial Air Time on your own:

No Agencies!
You Save the 15% Commission!
You schedule your own Time!
How to beat out your competition!

IMPORTANT WARNING!
TV Commercial Air TIme Buying is 'Not a Game, it's a Science!' If you think that the 'Cheapest Spots' are the Best Buys, and if you can't afford the price of this book, you definitely can't afford to Advertise on TV, the TV Pacmen will Gobble you up alive, right along with your Entire Budget! Don't Step Over $10 to pick up 10 cents!

This is absolutely a 'MUST' own book if you want to Advertise on Network or Cable Television if you are a Small to Medium Sized Business or just an Enterprising Individual with your own Idea or Product to Launch. This book is absolutely tailor made for businesses such as Car Dealers, Auto Repair and Auto Body Shops, local Furniture and Appliance Stores, Delivery Services, Law Firms, Clothing Stores and everything in between.

The TV Advertising Industry is a hard tricky business to dive into, just filled with traps that can swallow up your entire budget and spit out no returns.

Bonus! This book also includes one of the most Extensive Glossary of Terms in the Industry and is worth more than twice the Entire Price of the Book alone!

You Can't Afford 'Not' to Have This Book as you'll be Spending Thousands, and your Agency Commission Discount alone on even a one-time $2000 single air time buy will bring you 6 times the Price for this Book.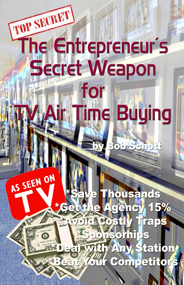 eBook Special Introductory Price




$19.95
What You'll Discover



- Save Thousands of Dollars
- Get the Agency 15% Discount
- Write and Produce a TV Ad
- Beat Ad Agencies Air Time
- Costly Areas Avoid
- LOW Cost to FREE Production
- Extensive Glossary of Terms
- Get the Station to Promote YOU!
- Sponsorhips and Bonus Buys
- Inside Secrets to Save Big Money
- Advanced Negotiating Tactics
- Be Your Own Agency
- Budgets from $1000 to $35,000+
- Plus Much, Much More!

Here it is, the very First Step by Step Book full of Inside Indsutry Secrets of buying television commercial air time spots on Cable TV and Network TV from Actor, Producer, Directory, Who's Who in America and the World and TV Air Time Buying GURU Bob Schott. This Book tells you exactly what you need to know about how to buy your own TV Air TIme without having to hire an Ad Agency.

You'll learn how to Schedule your very own TV Spots with Cable and Network TV Stations anywhere in the Country. This book even includes some UK European terms as the principles of these inside secrets can be applied to advertising Around the World as well as North America. Many of the principles in this book also apply to buying Radio Time!

The Secret Weapon for TV Air Time Buying includes the most extensive Glossary of Terms in the Industry for TV Air TIme. Learn how to talk to any Agency, TV Sales Rep or Manager.

You'll Also Learn:
- One of the Worst places on TV to schedule your spots
- Using Sponsorship tie-ins
- When you should pay more for a spot than normal
- The Most Important Marketing Promotional Tactic to Use
- How to get FREE Spots
- How to get FREE Publicity
- How to appear that you 'Own' part of the TV Station

Plus, Valuable Secret Weapons at Your Disposal Many of which used by the Large National TV Ad Agencies

A Must for all Car Dealerships, Appliance and Furniture Stores with budgets over $30,000 a month, whether you buy yourself or have an Agency.

Custom Design Your Own Package
Save over 40% of wasted buys
Grab that 15% Commission
Pay 25% More for a particular Spot but Get 80% More Impact
Use TV to drive traffic to your site and increase sales

____________________________________________

Download ORDER the Secret Weapon for TV Book through our secured shopping cart service and start Saving right away!